Anastasia is a surrealist artist from Odesa. She left Ukraine during the spring of 2022 when the war broke out, and after seven months spent in Berlin, she moved to the UK and now lives in Margate.  She is based at The Margate School.
She has been working professionally as a ceramic artist since 2008 and says that she is interested in exploring life's dualities:  safety/danger, love/hatred, strength/weakness, stability/chaos etc.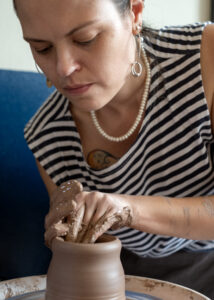 Anastasia took part in our recent photoshoot for our Margate Creatives series, and here she tells us about what she has discovered in Margate since arriving in 2022….
"Margate has a strong and growing presence in the art scene, with an increasing concentration of artists, galleries and creative spaces. A space of particular significance to me is The Margate School (TMS), where I currently make my work. The warm artistic community at the school has welcomed me and offered affordable space, tools and other opportunities which have been so helpful while establishing myself as an artist here in the UK.
In my view Margate needs to continue to break down barriers between artists and the public by increasing availability of free spaces for artists to show their works, and hosting art fairs like those regularly taking place in cities across Europe. Additionally, I often find myself ordering artistic materials online due to the absence of local art supply stores, so these would be a welcome presence on the high street!
After being in Margate for some time, it is clear to me that our artistic community has a lot to offer art collectors and those who appreciate art.
In my mind, the most important change Margate can make is to create opportunities for those people to meet and connect with each other".
Anastasia is now exhibiting regularly in Margate and the wider Kent area.
Check out Anastastia's new website here.