Music is My Weakness and My Strength.
Bernadette Hawkes works at Margate Radio, where she presents a regular music and talk show.
Bernadette started presenting radio shows in 2015, and The Happening radio show was 'born' in November 2017, when she joined DWR – Dance Web Radio.
She shares music across several genres including, soul, jazz, reggae, r n b, jazzfunk, nu-jazz, gospel & nu-gospel, standards plus calypso/soca, and the occasional country or pop music tune if the mood takes her.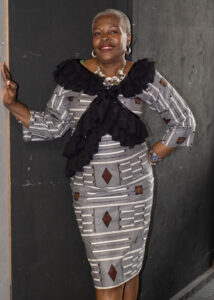 Bernadette wrote this blog exclusively for Margate Creative Land Trust, and took part in our recent photoshoot which will help us to represent and feature Margate creatives in our communications.
Here's what she told us:
Growing up I was influenced by my parents' love of music. I heard several music genres in various social settings. My Windrush Generation parents enjoyed artists such as Duke Ellington, Ella Fitzgerald as well as Glenn Miller.  In the 50's & 60's they moved towards rock and roll, soul, standards and country and western, but gospel was king or queen in our home on Sunday's.
At school and in my bedroom, I danced to Tamla Motown. Then I 'rebelled' and took to reggae & ska. When I began buying my own records it did not occur to me that a girl could become a DJ or music show radio presenter. I simply bought the music that I liked. When I discovered the West End of London and the music shops in the Oxford Street and Soho area, I bought funk & soul white labels, and American imports, often jostling with the guys who would ask me "Why do you want that tune, you're not a DJ?"
In my twenties 'proper jobs' took over my life. I dropped out of the music scene but kept most of my music adding to it in the form of CD's. During my forties, I lived with Cancer.   Whilst in treatment I returned to jazz, soul and reggae. I began buying music again. Dancing also came to the fore. YouTube parties became a way of entertaining friends as open decks were rare in London.
Life events together with three house moves in three years meant that I had to sell a large amount of vinyl. I rediscovered live music and found that there were many vinyl lovers particularly in Kent. Open Deck sessions, *selecting tunes* via Twitter led to my first radio shows. Dancing in Kent included Ballroom and occasionally Argentine Tango.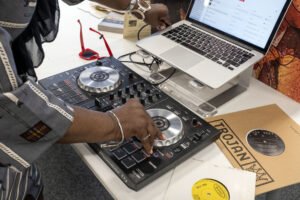 Although I'm not an 'artist' in the usual sense of the word, I use music to create a mood, and/or accompany other people's art, such as opening events from @TCMargate to smaller venues such as @margatemakelounge.  I love fashion and my 'arty side' emerges in my clothes & shoes LOL! I'm also an avid reader. I'm currently involved with @weave_and_read.
Music and The Happening have allowed me to meet other music lovers around the UK, and abroad including New York and Philadelphia. As a supporter of Kent based musicians, I've invited @GingerZedhead, @dulcie_de_la_luna, Frances Knight & @paulboothmusic into the studio to talk about their own music and their favourite tunes. I recently interviewed Doug Sides jazz drummer, and waiting in the wings is @ianeastwinds, jazz saxophonist.
Music is my Weakness and My Strength by Bernadette Hawkes.
August 2023