Jodie Cole is a working-class & neurodivergent choreographer, movement director, facilitator, performer & producer, and is lead artist at Jodie Cole Dance. Inspired by the healing powers of movement to cross social divides, Jodie's creative practice celebrates difference, uses movement to unite experience and brings performance to unexpected places.
"I love the size of Margate & Thanet; it means I can see who's who and where they are. This makes it a lot easier for me to get projects off the ground and make stuff happen. I need to be able to visualise the logistics and the people.
The one thing missing for the dance and movement community here is a proper dance studio, specifically for professional practice. This means we end up going to Canterbury or London to rehearse for shows or to keep training. We have a brilliantly talented community of independent movement artists here, and if we had the right space to practice, rehearse, and perform, we could build a thriving dance scene".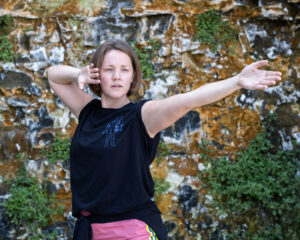 Jodie works internationally in communities, on large-scale site-specific projects, in theatre, & she has extensive experience teaching within the disability dance sector. 
Jodie has mentored dance facilitators for the Royal Academy of Dance & she is an MA Movement: Directing & Teaching graduate (RCSSD). She runs workshops & movement sessions for institutions across the UK & she is trained to level 3 British Sign Language.   
In 2021 Jodie was appointed as Weston Jerwood Creative Fellow at Extraordinary Bodies for her leadership potential as an inclusive practitioner, where she continues to work as the Unexpected Leaders Producer on the Connecting Communities project.
In 2022 Jodie Cole Dance created and toured Boogie Booth nationally, a popup participatory dance experience funded by Arts Council England and Kent County Council. 
Jodie is currently exploring "Class, Collaboration, & Complex PTSD" as part of her Arts Council funding, is an associate for the Jerwood Toolkit promoting socio-economic diversity in the arts, and teaches actor movement at British American Drama Academy.  
Find out more and Jodie's work and her fantastically fun Boogie Booth: Jodie's website